Announcing our $3.5m seed fundraise with experts in AI & SaaS automation
Nov 7, 2023
Daniil Bratchenko
Hello everyone!
I'm thrilled to share some great news with you all.
Integration.app has successfully secured $3.5 million in seed funding! This isn't just a financial achievement, but a resounding vote of confidence in our mission to change how integrations are being built by modern SaaS companies.
Leading the charge in this round were Crew Capital and Cortical Ventures with participation from Seedcamp, Accel Starters, DataRobot and UiPath founders & executives.
The Revolution We're Building
In the vibrant digital landscape where the average company leverages 371 SaaS applications (according to Productiv), the need for seamless integrations is crucial for winning customers. The on-ground reality has often been one of developers stretched thin, toggling between creating core features and crafting essential integrations. Our vision with Integration.app is to remedy this.
Existing solutions to this problem have historically been categorized between unified API providers and embedded iPaaS offerings.
Unified API providers like Merge.dev allow for quick integrations, but limited customizability. iPaaS vendors' embedded integrations like Tray.io are customizable, but have long implementation cycles that are untenable and costly for fast moving developer teams.
Our Universal Integrations architecture is removing the trade-off between time-to-implementation and customizability.
We leverage emerging capabilities of Large Language Models to create a "one-to-many" paradigm, whereby developers can configure one integration scenario (e.g. import customer data from any app) and Integration.app will intelligently map APIs and UIs across multiple applications to generate dozens of integrations at once, speeding time to production by up to 3-6 months.
This gives developers back their time to focus on building core features, rather than spending hours reading API documentation and building repetitive integrations.
Who's Riding the Wave with Us?
Our vision isn't a distant dream; it's today's reality. From agile startups to industry leaders like Airmeet, companies are harnessing our platform to redefine their integration strategies.
Airmeet saved budget and engineering time by using us to scale their portfolio of integrations with Sales & Marketing Automation tools.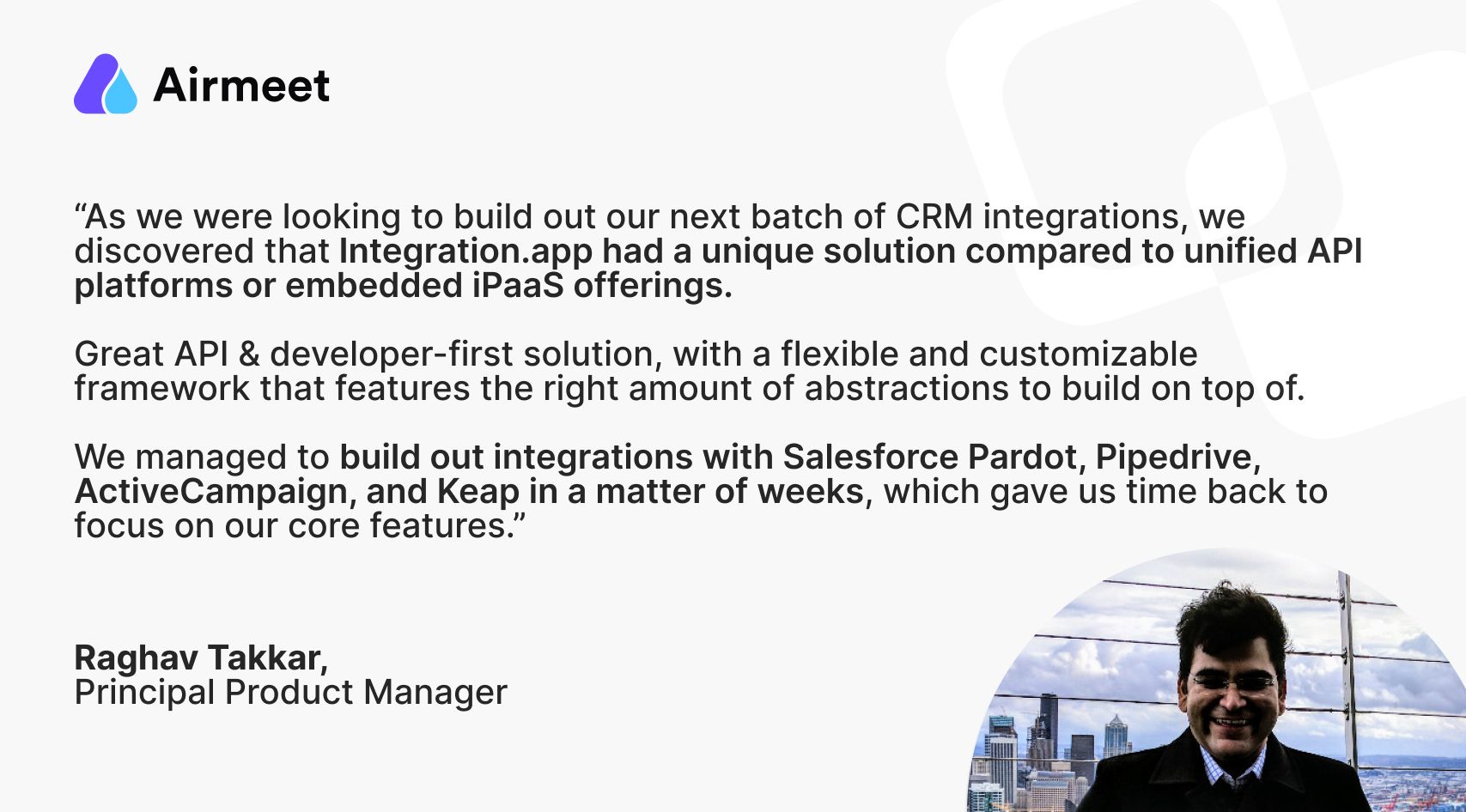 SaaS vendors that use our product save time and money on building integrations, while shortening sales cycles from prospective customers asking for specific integrations to the applications they care about. Our product can used by any engineer in a team, which allows for efficient rotation of resources no matter how large the company is.
This allows teams to move more nimbly with all their other core engineering priorities, instead of dedicating & locking team members on narrowly-focused integrations projects.
What's next?
We are actively working on expanding our existing portfolio of hundreds of connectors later this year. Lots of behind-the-scenes work for myself & the product team on the new product that leverages LLMs to enable developers to build their own custom connector for any application with a documented API.
The first alpha users who tried the Connector Builder are blown way by its capabilities, we had a customer build a fully-mapped connector for a cloud ERP system in 20 mins, which is a great validation for us. More to come here soon!
Peeking into the Future of Integrations
I think that 5 years from now, integrations will become a commodity. AI will make it simple and free for a developer of a business application to connect with every other application their customers use. Think of how easily it is for smartphone apps to consume and send data across each other. This should be the same for business apps. We want to provide this deep connectivity layer and pave the way to this future for the next generation of SaaS companies.
This funding round is the first step in making Integration.app closer to make this vision into reality and I'm excited to have a great team around me to make this happen!
A Word from Our Backers
We are lucky to have as part of our board some amazing investors with years of experience in scaling SaaS & AI startups:
Join Us on this Exciting Journey
As we embark on this next chapter, I invite you to explore our connectors library, product. Whether you're seeking integrations solutions or just curious about our journey shoot us an email at [email protected] or book a demo on our website.